Eskimos win Grey Cup in OT thriller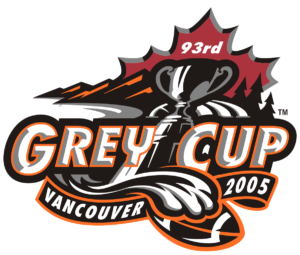 Credit CBC Sports
Sean Fleming booted the winning field goal in overtime to lift the Edmonton Eskimos to a thrilling 38-35 win over the Montreal Alouettes in the 93rd Grey Cup in what will go down as one of the greatest contests in the history of the CFL's championship game.
Fleming's 36-yarder sealed the victory for the Eskimos after Montreal quarterback Anthony Calvillo and Edmonton signal-caller Ricky Ray each tossed touchdowns in the extra period before a sellout crowd of 59,157 at Vancouver's B.C. Place Stadium on Sunday.
It was just the second Grey Cup decided in overtime. The other was Winnipeg's 21-14 win over Hamilton in 1961.
What started as a tight, defensive affair in the first half turned into a thrill-a-minute contest over the final two quarters. Lead changes, big turnovers, clutch catches, crushing blows â?? this Grey Cup had it all.




"We persevered. We fought back. I absolutely love these guys," Eskimos coach Danny Maciocia told the CFL on CBC. "This is the best football team I've ever been associated with."
"This is a family accomplishment," added Maciocia, choking up while holding his young daughter. "They've sacrificed so much."
Ray was named game MVP after completing 34-of-44 passes for 367 yards and two touchdowns. He also ran for a score.
"What a game," said Ray. "This has been an unbelievable year for this team."
The win was especially sweet for the 26-year-old quarterback, who was yanked from the game in Edmonton's previous two playoff wins in favour of backup Jason Maas.
"I haven't done it in a while," said Ray. "Maciocia had confidence in me today. He gave me a chance.
"We just did it as a team today. This team played great."
"He was awesome," Eskimos receiver Jason Tucker said about Ray. "I'm not surprised at all â?? we knew what Ricky could do.
"It feels real sweet. There's nothing sweeter than this."
Edmonton fullback Mike Maurer was named most outstanding Canadian after making four catches for 41 yards.
"We fought through adversity all season long," Maurer said. "We've come from behind. We can do it all."
With Edmonton down 25-20, Ray completed a third-and-four bomb to Derrell Mitchell and then punched the ball into the end zone on a one-yard plunge with just over a minute left in the fourth quarter.
Ray tossed a two-point convert pass to Tucker to make it 28-25, but Montreal's Damon Duval connected on a 28-yard field goal on the final play of regulation to tie the score and send the game into overtime.
Things didn't slow down in the extra period.
Calvillo threw a 30-yard strike to Dave Stala, and it looked as though the Alouettes had it wrapped up. Edmonton refused to die, however, and needing a touchdown to keep the game going, Ray hit Jason Tucker with an 11-yard touchdown on the ensuing drive.
After that, the two teams switched ends and Edmonton marched down the field before Fleming nailed his field goal. With Montreal needing a score this time, the Alouettes sputtered on its last drive.
Calvillo was penalized for an illegal pass, and Charles Alston pushed the Als back to the Montreal 54-yard-line and out of field-goal range with an 11-yard sack.
Facing second-and-31, Calvillo threw an incomplete pass before scrambling and punting the ball on third down only to have Edmonton recover and end the game.
"They got the field goal and it was like the wheels fell off," said Calvillo, who completed 29 passes for 361 yards. "A dumb mistake on my part with the double pass. It went downhill from there.
"It hurts more with it probably being my best (Grey Cup) game throwing-wise, but it's still very painful not walking away with victory."
That the Alouettes even had a chance to win it, though, was due to Calvillo's determined play in the second half.
Down 10-1 at the half, Calvillo led the Alouettes to three straight scoring drives in the third quarter and then ran one in himself on a perfectly executed naked bootleg midway through the fourth to give the Alouettes a 25-23 advantage, its first lead of the game.
Montreal-born running back Eric Lapointe scored two touchdowns for the Alouetttes in the third.
Edmonton's Tony Tompkins returned an Alouettes kickoff back 96 yards to give Edmonton a 20-18 advantage going into halftime. Tompkins' touchdown return set a Grey Cup record.
The first half was a dull spectacle with both teams struggling to get anything going on offence. Both Ray and Calvillo were cautious and conservative, throwing short, high-percentage passes and relying on the run.
On Montreal's opening drive, slotback Terry Vaughn was stripped of the ball and Edmonton linebacker A.J. Gass recovered in the Alouettes' end of the field to set up Fleming's 18-yard field goal.
Duval put Montreal on the scoreboard with a 51-yard single with 18 seconds left in the quarter.
Things began to open a bit at the start of the second quarter as Ray put together an efficient little drive, climaxing with a nine-yard touchdown strike to Ed Hervey. Hervey caught the ball on the one-yard line, broke a tackle and then spun into the end zone.
The touchdown pass was Ray's first in eight games.
Montreal showed some promise when Calvillo marched the Alouettes down to the Edmonton 25-yard line with less than three minutes in the half, but the drive came to an abrupt end when he was intercepted by Eskimos' defensive back Shannon Garrett.
This is Edmonton's second Grey Cup title in three years and 13th overall.
Edmonton is just the fourth team in CFL history to finish third in its division during the regular season and win the Grey Cup. B.C. did it twice (2000 and 1994), joining Saskatchewan (1989) and Montreal (1970).
With the victory, Maciocia becomes just the seventh head coach since 1950 to win the Grey Cup in his first season.
Frank Clair (1950 with Ottawa), Clem Crowe (1951, Ottawa), Frank Ivy (1954, Edmonton), Ralph Sazio (1963, Hamilton), Sam Etcheverry (1970, Montreal) and Adam Rita (Toronto, 1991) are the others.
2005 Grey Cup Video
2005 Grey Cup Name Plate

2005 Grey Cup Ring