Congratulations to the Winnipeg Blue Bombers after a long wait of 29 years it's back to back Championships, Winners of the 107th and 108th Grey Cup!
About The Grey Cup
The Champions of the CFL are awarded The Grey Cup.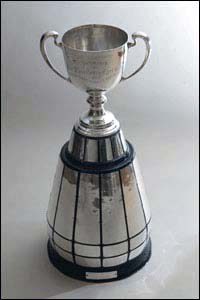 The Grey Cup Festival is held every year in late November. The Festival features the Championship game of the Canadian Football League. The Festival also features a number of Hospitality Suites and Party's enabling fans across the country to meet and celebrate the game they love with Players past and present.
The Grey Cup is to Canadians what the Super Bowl is to American's. This fall festival generates a large amount of national media coverage, celebration and fan interest from coast to coast to coast.
Many Canadians refer to the Grey Cup as the Grand National Drunk. If you are a football fan and haven't attended a Grey Cup you should do so it really is a lot of fun.
The trophy was commissioned in 1909 by the Earl Grey, at the time he was Canada's governor general. Making the Grey Cup the oldest Professional Football Trophy and one of the oldest Professional Sports trophy's in North America.




| | | | | | |
| --- | --- | --- | --- | --- | --- |
| Year | Winner | Loser | Score | Site | More Information |
| 2022 | Toronto Argonauts | Winnipeg Blue Bombers | 24-23 | Regina | More Info |
| 2021 | Winnipeg Blue Bombers | Hamilton Tiger Cats | 33-25 OT | Hamilton | More Info |
| 2020 | Season Cancelled | Due to Covid-19 Global Pandemic | | | |
| 2019 | Winnipeg Blue Bombers | Hamilton Tiger Cats | 33-12 | Calgary | More Info |
| 2018 | Calgary Stampeders | Ottawa RedBlacks | 27-16 | Edmonton | More Info |
| 2017 | Toronto Argonauts | Calgary Stampeders | 27-24 | Ottawa | More Info |
| 2016 | Ottawa RedBlacks | Calgary Stampeders | 39-33 | Toronto | More Info |
| 2015 | Edmonton Eskimos | Ottawa RedBlacks | 26-20 | Winnipeg | More Info |
| 2014 | Calgary Stampeders | Hamilton Tiger-Cats | 20-16 | Vancouver | More Info |
| 2013 | Saskatchewan Roughriders | Hamilton Tiger-Cats | 45-23 | Regina | More Info |
| 2012 | Toronto Argonauts | Calgary Stampeders | 35-22 | Toronto | More Info |
| 2011 | British Columbia Lions | Winnipeg Blue Bombers | 34-23 | Vancouver | More Info |
| 2010 | Montreal Alouettes | Saskatchewan Roughriders | 21-18 | Edmonton | More Info |