Source Canadian Press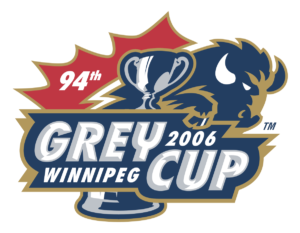 It was the year of the Lions in the CFL, and it'll be remembered for more than their 25-14 Grey Cup victory over the Montreal Alouettes.
They had the strongest team all season and, in jumping to an early lead and staying ahead all the way in winning the championship Sunday, they had so much energy left over that they broke the historic trophy.
"If you look into the animal kingdom, the lion is ferocious, cocky, king of the beasts," said jubilant B.C. defensive back Korey Banks. "So we're just acting like the mascot.
"We're ferocious, cocky and we're the king of the east, the west and the whole CFL, baby!"
Paul McCallum's record-tying six field goals and a touchdown by Ian Smart were enough to get the job done on a chilly late afternoon at Canad Inns Stadium.
The Alouettes put up a fight in the second half, but their last hopes were dashed when tailback Robert Edwards fumbled on the goal-line and Otis Floyd recovered with 4:26 left in a game the Lions never trailed.
B.C. won its fifth Grey Cup and its first since beating Montreal in the 2000 championship game. In the mass on-field celebration after the final gun sounded, the base was separated from the 94-year-old Cup, which will likely land the Lions with a hefty repair bill.
"I just started shaking it and it snapped," said Lions guard Kelly Bates. "I'm still happy, they'll put it back together and we'll go get drunk out of it."
Edwards ran in a TD, Damon Duval booted a field goal and the defence forced two safeties for Montreal, which was in its fifth Grey Cup in seven years and remains with only a win in 2002 in that span.
McCallum tied a record for most field goals in a Grey Cup shared by three other kickers, including his kicking coach Don Sweet, who booted six in 1977, Hamilton's Paul Osbaldiston in 1986 and Edmonton's Sean Fleming in 1993.
"I'm not one for stats or personal records," said McCallum, who had manure dumped on his lawn in Regina after missing a potential game-winner in the 2004 West final for the Roughriders. "I'm just glad I got the ring."
Two Alouettes set Grey Cup records in a losing cause.
Anthony Calvillo threw for 234 yards to pass Doug Flutie (1,421), who was voted this week as the greatest CFL player of all-time, for career Grey Cup passing yards with 1,468.
And his favourite target Ben Cahoon caught 11 passes to top 1950s Alouettes legend Hal Patterson (29) for first place with 31 career Grey Cup catches. He had 137 yards in receptions.
Neither was in a mood to celebrate.
"It's so frustrating to come this close so many years and not finish the job again," said Calvillo, the quarterback in all five for Montreal. "I don't know what happened."
What happened is that the BC defence overwhelmed a sputtering Alouettes offence in the first half, allowing Montreal to cross midfield only twice to build a 19-3 halftime lead.
The Als moved the ball better in the second half and threatened to make a game of it, but the Lions' defence held.
"Their defence played well, but our defence was the difference," said Lions coach Wally Buono, who won his fourth career Grey Cup as a coach and his first with BC The win made up for a loss in the 2004 championship to Toronto for Buono, quarterback Dave Dickenson and other Lions.
"It was overdue for the organization, for Wally and the owners," said Dickenson.
It was hardly a thriller for the full house of 44,786 that shivered in -3 C cold to see a game that unfolded as predicted – a clear BC win with Dickenson in control. Dickenson was named player of the game, while McCallum was named top Canadian.
The Lions entered the game as seven-point favourites and with the league's best offence, but in a year in which defences ruled, TDs were hard to come by and kickers took centre stage.
With Montreal double-teaming Geroy Simon, named Thursday as the league's outstanding player, Dickenson went to Paris Jackson and Ryan Thelwell, who each had five catches. Simon ended with four catches for 41 yards, meagre by his standards.
And both teams limited the running game, with Edwards held to 85 yards on 16 carries and BC's Joe Smith gaining 72 on 16 tries.
But Dickenson set the tone early. He led a long opening drive that resulted in a 34-yard McCallum field goal and then took his team from his own 18 into range for a 35-yard McCallum boot.
CFL outstanding rookie Aaron Hunt forced a Calvillo fumble at the Montreal 23, setting up yet another McCallum field goal.
"I'm not one for stats or personal records," said McCallum, the native of Vancouver. "I'm just glad I got the ring."
"I always observed Paul and I thought, `I will help him be a better kicker,"' said Buono. "Like everyone else, kickers just need to be coached.
"He's 11-for-11 in the playoffs. That's a tremendous feat."
The Lions used all three of their quarterbacks, and Buck Pierce was in to flip the ball to American rookie Smart for the game's first TD on a 25-yard run untouched around the left side 4:12 into the second quarter. Jarious Jackson was also used on short yardage plays.
Montreal finally got into the BC end midway through the quarter, but Duval's 46-yard attempt was wide left. On Montreal's next possession, Duval was good from 43 yards to put Montreal on the board.
Dickenson led a final drive for a 30-yard field goal as time expired in the half.
Momentum shifted in the second half as the Montreal defence forced a Dickenson fumble at the Als' 46 that stood up after a challenge and video review.
The offence was stopped, but Duval angled a punt out at the BC one and two plays later, McCallum conceded a safety at 8:47.
Getting the ball back, Calvillo led his best drive capped by Edwards' TD plunge from the two to cut BC's lead to seven points at 13:14 of the third quarter.
After Edwards fumbled on another strong drive, the Alouettes picked up only another safety and the threat was ended.
"Our second half was a flip-flop of the first," said Jim Popp, the Montreal general manager who stepped in as coach when veteran Don Matthews resigned with four games left in an up-and-down regular season. "That turnover killed us. Who knows what would have happened if we had been able to punch that in. But give BC, credit, We couldn't move the ball in the first half."
The Lions are 5-4 in Grey Cup games while the Alouettes are 5-10. There was some nastiness before the game as Montreal's Avon Cobourne and Floyd got into a jawing match and others joined in as the teams passed each other for player introductions.
Game summary
BC Lions (25) – TDs, Ian Smart; FGs Paul McCallum (6); cons., McCallum.
Montreal Alouettes (14) – TDs, Robert Edwards; FGs Damon Duval; cons., Duval; safety touch (2).
First Quarter
BC—FG McCallum 34-yard field goal 4:49 3 – 0 BC
BC—FG McCallum 35-yard field goal 12:26 6 – 0 BC
BC—FG McCallum 24-yard field goal 14:15 9 – 0 BC
Second Quarter
BC—TD Smart 25-yard run (McCallum convert) 4:12 16 – 0 BC
MTL—FG Duval 43-yard field goal 13:18 16 – 3 BC
BC—FG McCallum 30-yard field goal 15:00 19 – 3 BC
Third Quarter
MTL—Safety McCallum concedes in end zone 8:47 19 – 5 BC
MTL—TD Edwards 2-yard run (Duval convert)13:00 19 – 12 BC
Fourth Quarter
BC—FG McCallum 21-yard field goal 4:17 22 – 12 BC
BC—FG McCallum 47-yard field goal 6:28 25 – 12 BC
MTL—Safety McCallum concedes in end zone 13:17 25 – 14 BC
2006 Grey Cup Highlight Video
2006 Grey Cup Championship Ring